Any23 v0.4.0 Released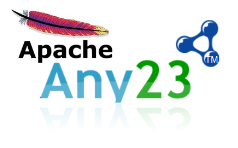 Dear All,
the Sindice FBK team is proud to announce the Any23 0.4.0 release.
In this new release we paid particular attention in data validation and correction,
in  particular  we can claim  to extract the  Open Graph Protocol[1]  metadata also
whether affected by syntactical errors[2].
We've also added full support for the N-Quads[3] format.
As usual everybody is invited to adopt this new release and
report any encountered bug[4].
A live demo is running at [5], please feel free to try it.
We're planning the milestone 0.5.0, so if you are waiting for the fix of
a particular improvement please submit it to us using our issue tracker[4].
Below an extract of the 0.4.0 release note [6]:
The any23-service module has been separated from the any23-core module, the Ant build system has been dropped. [Issue 44]
Added support for HTML metadata (RDFa / Microformats) validation and correction (validator). [Issue 77]
Added flag to disable the nesting relationship property enrichment. [Issue 67]
Improved coverage of Microformat tests. [Issue 65]
Improved documentation. [Issue 44]
Various code consolidation. [Issues 68, 69, 70, 71, 72, 73, 74, 77]
Thanks for supporting our work.
The Any23 Developers Team
[1] http://opengraphprotocol.org/
[2] http://developers.any23.org/ill-formed-rdfa.html
[3] http://sw.deri.org/2008/07/n-quads/
[4] http://code.google.com/p/any23/issues/list
[5] http://any23.org/
About this blog
In this blog you'll find announcements related to Sindice project, as well as news about Semantic Web topics or technical issues strictly related to the search engine.